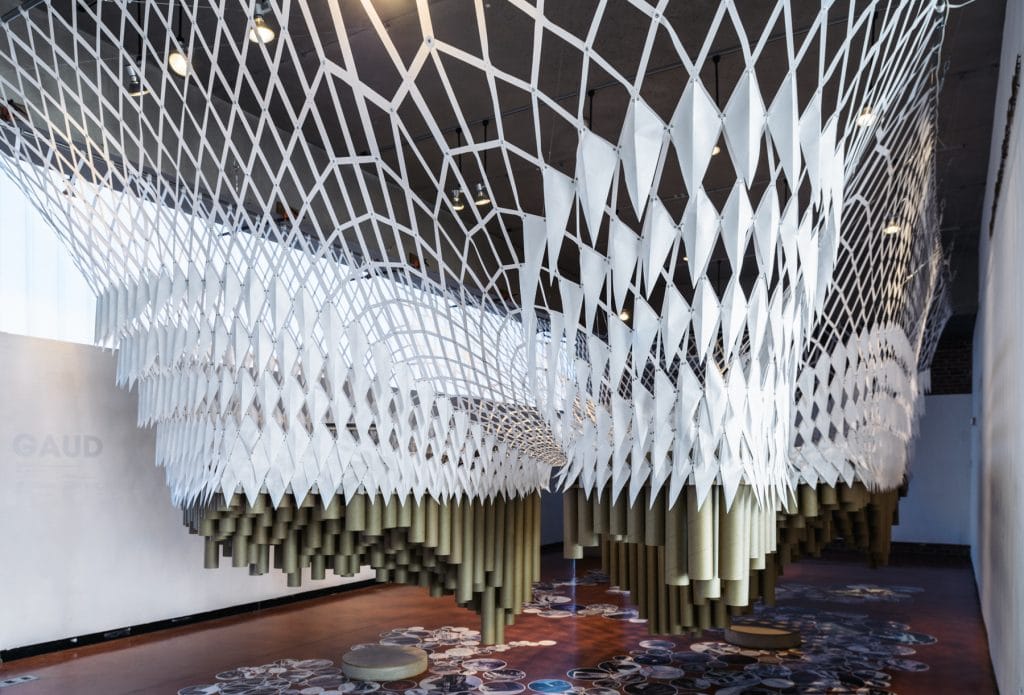 GAUD14 New York, NY 2014
Pratt Institute's Graduate Architecture & Urban Design exhibition of student work has been curated, designed, and fabricated by a group of students in a course taught by Michael Szivos for the past 6 years. This year the students produced a large scale installation in the Hazel and Robert H. Siegel Gallery. Each year the course produces an installation that explores digital fabrication methods as while showcasing the previous year's student work. The opening of the exhibition coincides with In Process, the annual publication of student work. The curatorial component of the exhibition is meant to contrast the more traditional way of indexing the work through In Process.
This year's exhibition featured architectural models floating on floating platforms. The platforms were suspended by an engineered surface that acted both as a single structural surface and a cloud like filter. The underside of each platform was creating using attenuated cardboard tubes to create a surface that  guided visitors to specific locations on the platform where they could view the interior of the surface. Once inside these viewing zones visitors were able to view the models at what would be considered street or person level (although a more realistic view, an over overlooked vantage point for models). The images of student work  from Spring 2013 to Fall 2014 were arranged under the field of cardboard tubes as if they are being projected from the tubes. The work was packed together in clusters showcasing the variety and organic nature of how work is produced within the culture of the school.
The hanging installation was made of custom cut laser cut Mylar panels. This surface acts as one piece, only forming its final shape in tension through the weight of the model platforms. The surface weighs under 20 lbs while suspending a weight of over 500 lbs. The bottom of the surface is clad in custom tyvek panels to obscure the models. This encourages the exploration and overall engagement of visitors with the interior of the piece. The interior experience is not only a surprise, but a unique way to view the physical output of students in an isolated and continuous environment.
Professor : Michael Szivos
Design Team : Guanxi Chen,Yong-Chun Choi, Jeian Jeong, Minji Jung, Che-Chung Lin, Yung-Fu Lin, Peter Liu, Sao-Wei Lu, Kesra Mansuri, So Jung Nam, Gee-Ana Sanchez, Thea Sarkissian, Fei-Fei Song, Alaa Tarabzouni, Sean Whalen, Ryan Whitby
Photos: Alan Tansey