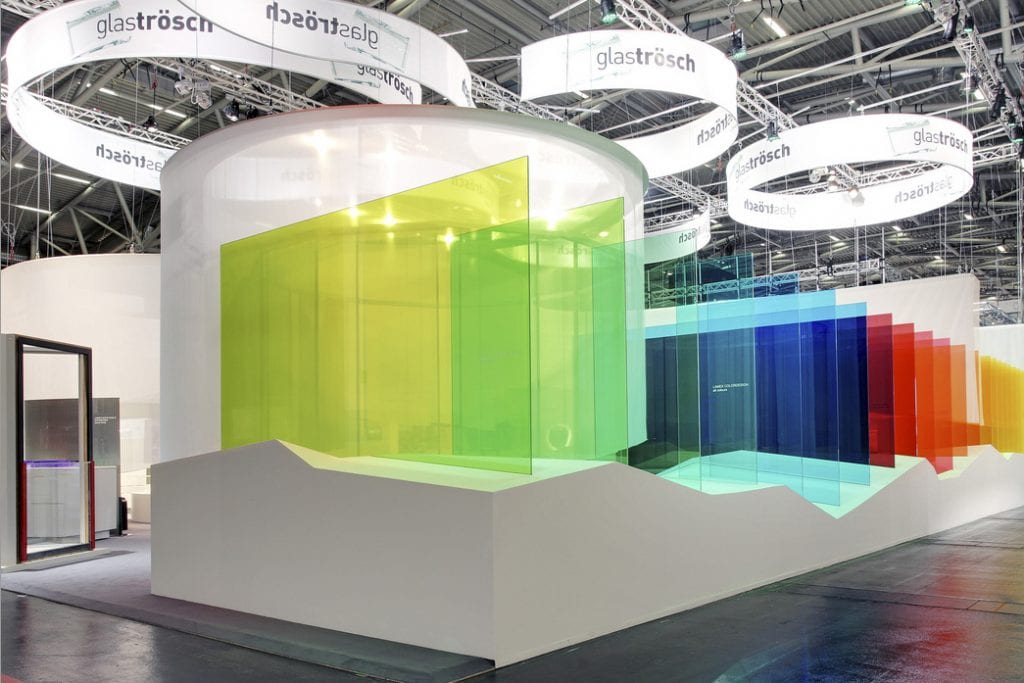 Glas Trösch BAU Munich, DE 2013
When we were asked by Glas Trösch to design their booth for the BAU 2013 we noticed that the typical booth is very much defined by the grid of parcels that are allotted. We were interested in creating a design that stands out against the other booths by moving away from the typical box filled parcel. As we explored ways to break away from a box we recognized that a booth without edges has the potential to have a more omni-directional space, one that does not have sides, a front, or a back. We tried to blur the edges or thresholds so that it would be easier for visitors to "wander " into the booth.
As we started to think of a booth without edges we went to an extreme of imagining a booth made of mist or fog. For us the most compelling transformation of glass is atmospheric and how the two might combine through condensation. The idea that glass can mist and become foggy was our inspiration. We created a sense of mist
through a series of curved curtains that are layered to create various degrees of transparency from the outside of the booth. The curtains act as a cloud over the booth with a plan that acts like a generator of currents or turbulence within the booth. The goal was to have people meander through the various zones as if searching through mist. The curtains all start in a landscape on the south side of the booth. This landscape is a large scale installation that includes a large array of colored glass sheets. This colored glass sheets are meant to act as another visual filter along with the curtains above. As visitors pass by this large array of glass the colors mix and change in perspective giving the booth a quality like a sunrise. The landscape mixed with the cloud like curtains is meant to evoke a naturally changing atmosphere much like clouds over a mountain during sunrise.
Photos: Sascha Kletzsch