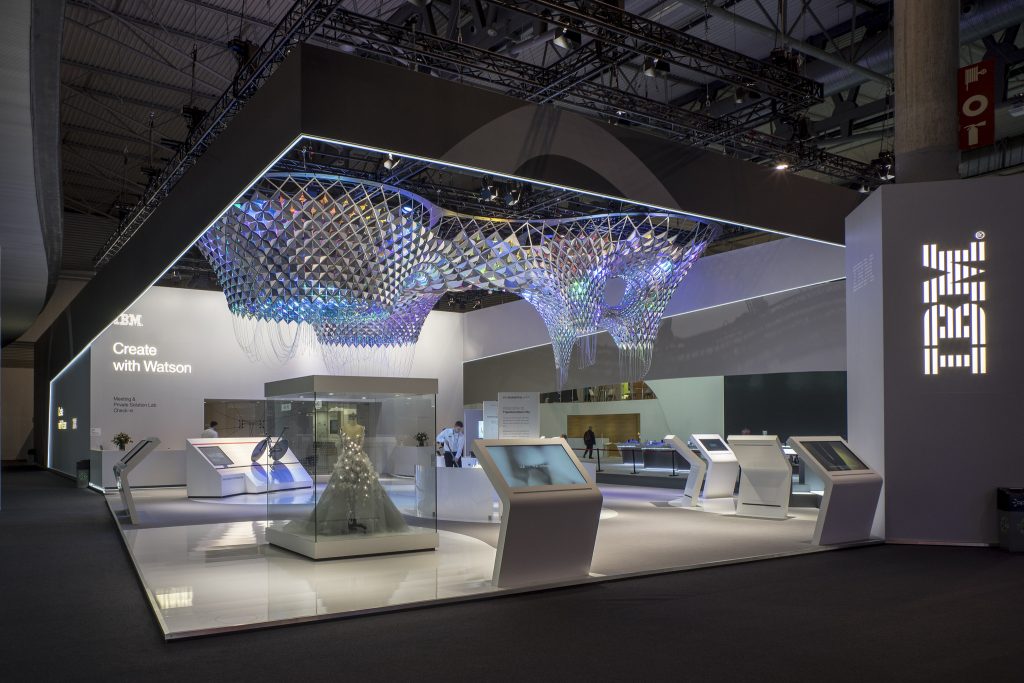 IBM MWC Barcelona, ES 2018
We worked with IBM and their cognitive platform, Watson, to create a large-scale installation for the Mobile World Congress in Barcelona. We often use digital and computational processes to aid in the production, fabrication, and assembly of our projects, but in this case those processes made their way into the conceptual design as well through our collaboration with Watson. The design process involved the use of Watson's various APIs to aggregate thousands of images and articles about Barcelona and the architecture of Gaudi to make conceptual suggestions about form, color, and temperament during the design phase. This led to a form found installation made of an aluminum structural surface that was clad in a composite of aluminum petal-like panels and 3M dichroic film. The panels and the film were driven by suggestions about the organic detailing of Gaudi's work and the iridescent qualities he achieved through some of his mosaic tile work he applied to the roof and other surfaces of his architecture.
The installation also included the vertical movement of chain models that hung from each of the various zones created by the installation. These were activated by real-time data analysis provided by Watson about various topics related to Barcelona, technology, and the Mobile World Congress. Each chain model represented the sentiment Watson gathered by querying social media channels. The chain model was accompanied by a live interface that showed the installation upside down much like Gaudi's gravity driven models. The installation itself acted as a spatial representation of the changing data, while the interface used the upside down 3D model of the installation as a graph to show more precise metrics and the social media that were driving them.
Find out more about the process:
Photos of the installation