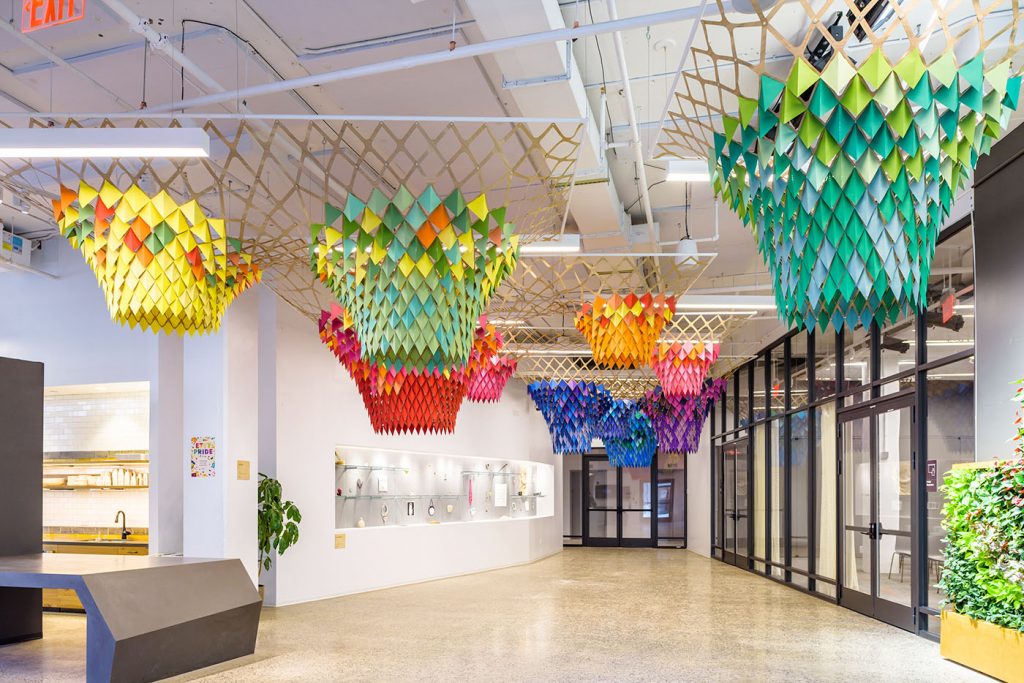 Plume New York, NY 2017
We were commissioned by Etsy to create a permanent installation for their new headquarters in Dumbo Brooklyn. The installation hangs above the public entrance for Etsy's new headquarters and just outside of the Etsytorium, their public speaking space. The goal of the piece was to create a spatial installation that was as immersive as possible while still leaving the main entrance open to traffic. We took inspiration from hanging gardens to create a series of net like structures clad in vibrant paper that hang down into the space. The structure was designed to fit within the lighting plan designed for the space so that it is seamless with the architecture of the space. By using natural materials like wood veneer and recycled paper along with digitally developed structural shapes and laser cut parts, the installation combines craft and technology in a way that is emblematic of the Etsy's commitment to craft, innovation, and sustainability.
The overall structural net is made of custom laser cut oak wood veneer that is hung from aluminum frames. The veneer net has details that accept the folded paper "petals." Each petal is unique and has custom tabs to fit into a particular veneer petal in the structure. The color of each paper petal is
dictated by a vibrant gradient that starts at the entrance into the space. The paper is recycled handmade paper that we sourced from ShopWitty, an Etsy seller. Because ShopWitty makes the paper to order we were able to send them swatches and get the custom colors we needed to create the gradient spanning the installation. Overall the installation was a great opportunity to use materials in a way that is both innovative and sustainable.
Photos: Alan Tansey
Find out more about the process:
Surface fabrication
Photos of the installation